We are looking for a motivated and enthusiastic Sales Administrator.  Reporting to the Operations Director, you will be based in either London or Oxford and will be working closely with the Sales team to help with day to day business, from handling initial enquiries, to updating broker databases and arranging viewings.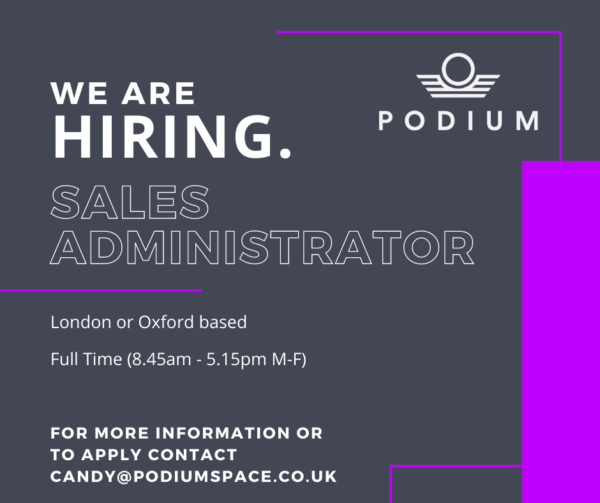 A Sales Administrator is responsible for:
Qualifying opportunities that come into Podium via direct sources or through third party
channels and support the sales team
Possessing excellent customer service, communication, and administration skills to identify
the best solution within the portfolio to each client
Proving an accountability for conversion rates from enquiry to viewing arranged and assist
the sales managers, at times, with ongoing liaison with the broker until the viewing
converts to a sale
Demonstrating the ability to work effectively as part of a sales team and have excellent
time management skills to remain in control of all live opportunities
Duties:
Working closely with sales team to help with day-to-day business
Answering calls from brokers and first contact potential clients
 Ensuring brokers & agents are aware of portfolios current and upcoming availability
Arranging viewings on behalf of the sales team
Attending viewings when needed (ad hoc basis depending on the consultant's
availability)
Attending broker events
Keeping contacts and distribution groups relevant and up to date
Keeping CRM up to date with detailed information
Liaise with the broker to develop relationships
Preparation of general correspondence, template documents, reports
Desirable Skills & Experience
Excellent written and verbal communication skills
Great telephone manner, confidence to sell and represent brand (B2B and B2C)
Team Player
CRM Experience, able to input & understand data accurately
Fast thinking & able to use initiative
Must possess strong organisational skills and ability to prioritise
Podium's Values
PEOPLE
Our people are the most important ingredient in Podium's success and it is our goal to
create a team environment where every member places the highest importance on
respect and positive communication. We empower team members to take on new
challenges and give them the confidence to grow and develop.
PRIDE
We take pride in ourselves and the work we do every day by striving to be the best we can
and upholding the values of quality and customer service in all our interactions.
PARTNERSHIPS
Whether with colleagues, clients, visitors, suppliers or landlords, Podium aspires to
forming beneficial partnerships. We do this by ensuring that we are professional,
transparent, flexible and professional in all our interactions. We are invested in each
other's successes as well as in our clients'.
This job description aims to demonstrate the day to day duties of the role. There may be
additional duties and responsibilities from time to time, and team members are expected
to be flexible in their approach to ensure that the highest standards of Customer Service
are offered.
For more details, or to apply, please email the Operations Director.
Podium offers flexible offices to rent in London, Oxford, Bath, Ealing, Chiswick, Slough and Bournemouth, as well as Virtual Office services and Meeting Rooms to hire.  See all our locations here.  Our experienced and professional teams combined with high quality flexible workspaces are what sets Podium apart from the field.