Earlier this year, we instructed the London based office fit out company Oktra with the task of designing, defining and delivering Podium's flexible office centre in Ealing.
Recently, another Oktra designer, David Osbourne was interviewed for the office architecture and design website Office Lovin. David said "One of the most interesting things happening around design is the focus on community, wellbeing, and culture. Companies are beginning to understand the importance of collaborative working and idea sharing. Creating spaces that encourage collaboration and discussion – this is key to building a great company culture and getting the most out of your team."
Without any shadow of a doubt, it is fair to say that having a stylish and contemporary office that is superbly located with lots of amenities close by will certainly help companies attract the right talent. Over the last few months, we worked very closely with Hannah Walsworth, designer at Oktra and she helped us bring our vision to life. We catch up with Hannah and talk all things furniture, trends and how office space evolved over time.
Oktra designs lots of office spaces, large and small up and down the country. How did our brief differ from other office companies?
Hannah: Podium's approach to each location is to tell a unique story, bringing the visitor on a journey. For Ealing, we were given a blank canvas and started with the idea of dreams and illusions. As a concept, an MC Escher drawing was superimposed into an old Hollywood glamour scene. It's a dreamscape of bold geometric shapes, high contrast compositions and luxurious materials. It's an unexpected mix of sophisticated yet quirky, luxury but not your status quo.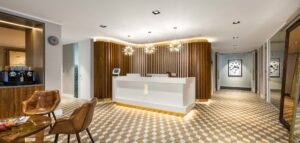 The Dock Club was created to offer clients a luxury coworking space that doubled up as bar, can you talk us through the soft furnishings and overall style you chose for this space?
Hannah: The Dock Club is a fully serviced multifunctional hub, it is a bar, lounge and coworking space. The philosophy behind it is that you can "dock–into-work"; schedule a meeting in one of the meeting pods or put on a headset and work independently in a cosy seating area by the window. The Dock Club gives you options for a range of functions, from peace and quiet in the Zen Room to a glass of wine after hours at the bar. The space complements the individual offices well. We collaborated with Keeley Fox Interiors on furniture, finishes and equipment and created something different for Podium's portfolio of offices. Looking at the space, you can easily identify it to being more akin to a boutique hotel or a shop fit out. If you were to have a meeting in any part of that area, you just instantly feel good in the space.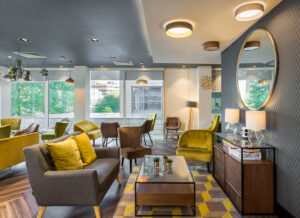 What do you think are the current office design trends and are you as a designer led by trend or do other things inspire you such as what you see on your travels?
Hannah:  I enjoy creating spaces that are relevant and suitable for a particular client. Just about anything can be inspiration which is the beauty of creativity; but design of course brings functionality into the mix. It's important for me that clients have a user friendly space where each area can be utilized for a variety of needs/preferences. "Industrial is not for everyone". Aesthetically, I do love simplicity in a design. I pay attention to the detailing in industrial and fashion design for example. I like things that are clever. I think my approach to interiors is somehow similar, I like to focus on how things come together and staying true to a concept rather than a trend.
How has the office space evolved over time and what do you see as the next big development within the industry? 
Hannah:  Over the years we've seen real estate prices go up and walls come down. We've moved from isolated work cubicles and cellular offices to open, collaborative, tech-driven spaces. But I see a gap in this philosophy. The answer is somehow in the middle. In our tech-driven world we've lost an intimacy with the physical world; the feeling of being close to nature, engaging with our physical environments and being mentally present with one another. We need places to retreat where our mobile phones are stowed away in order to have a one-to-one connections. Even though we're in open plan where there are no physical boundaries, we're still not feeling connected because our minds are engaging more on a virtual platform rather than the 'here and now'. I see this manifesting with trends emerging such as improving indoor air quality, bringing nature indoors, focus on acoustics integrity, quiet tech-free zones in offices and engaging all the senses in a space including smells (simple things such as fresh air or plants) and sound design (sounds responsive to environment or energy in the room).
The coworking environment is becoming a popular choice for larger companies who no longer expect their employees to make long commutes, not just hip creatives.  Does Ealing Dock Club fit this requirement?
Hannah: Definitely. Ealing is different to most coworking spaces that target a young design or media community by providing an industrial warehouse feel. Ealing targets a young polished professional, I think this differentiation is important to the client.
Finally, what is your favourite feature of Ealing Cross and why?
Hannah:  I love the Dock Club. The variety of spaces and materials creates an environment with options and a variety of moods. I must say I'm a bit sad I can't work in there!
Podium has Dock Clubs in Soho, Marylebone, Chiswick, Ealing, Fitzrovia, Bloomsbury, Oxford and Bath.
See some of Oktra's other designs here.