OpenSponsorship is a global sports marketing agency company who use sports sponsorship as a marketing tool and bring together brands and athletes for a myriad of exciting sponsorship opportunities.
Using their platform, brands can sign up to a membership package which connects them with the athlete, team or event that is most aligned to their marketing needs.  It's about building brand awareness, reaching a larger audience, engaging sports fans and creating brand advocates through a bespoke mix of social media, sponsor appearances and logo placements.
The platform allows brands to view and shortlist suitable athletes before connecting with them and proposing a deal and with over 15000 athletes on their books, there is a huge choice.  OpenSponsorship dashboards show how each campaign is performing so success is measurable.
2020 brought huge changes to the way businesses work, with lockdowns in many countries enforcing "work from home" for months at a time.  OpenSponsorship has adapted to the changing workplace and has endorsed a hybrid working pattern, allowing employees to flex between home and office working and have noticed 3 major advantages to their business: Increased productivity, improved employee satisfaction & improved mental health.  For more information on how OpenSponsorship has embraced hybrid working read their article here.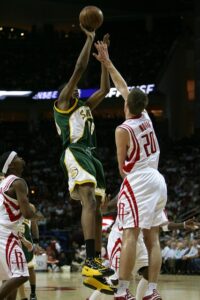 When the company were looking to expand in London, they were focused on a workspace solution that would fit with their hybrid working goals.  After considering several options, Podium Dock Club ticked all their boxes, providing stylish and professional coworking spaces in a variety of key locations such as Soho, Chiswick and Ealing.  With bookable meeting rooms and private phone booths, along with a great selection of refreshments and client events, The Dock Club felt like so much more than somewhere for our people to turn up and hotdesk.
OpenSponsorship CEO Ishveen Jolly frequently hosts meetings at the London Dock Club, saying "We love how Podium has so many Dock Club locations including in the most sought after areas of London like Soho where we work mostly from. The space looks great, always has tea / coffee/ snacks and we enjoy the ability to book meeting rooms easily". 
With many more companies choosing The Dock Club as a cost effective hybrid working solution, it's also a great opportunity to network with like minded companies.  Dock Clubs are available in Bath, Oxford, Ealing, Slough, Chiswick, Marylebone, Liverpool Street and Bloomsbury.  Contact us for more information or to try it out for the day.
To find out about brand deals at OpenSponsorship in the world of sports and entertainment, connect with them here.