Podium's Festive Food Bank Initiative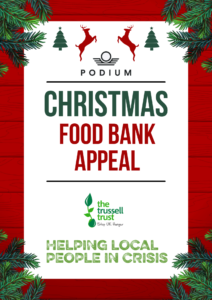 All of us are feeling the pinch with rising costs, but for hundreds of thousands of people in the UK, including working households, the current situation means they can no longer afford to heat their home and have enough food on the table.
As a result, the UK's food banks are reported to be at breaking point, and unable to keep up with demand for their services.  The Trussell Trust, a food bank charity, recently revealed that they had given 1.3 million food parcels to people in need in the last 6 months, with 320,000 turning to food banks for the first time.
The Podium team down in Bath came up with the idea of becoming a drop off point for food donations for the clients in their building, and we decided to extend this to an initiative in all our flex office centres.  At the end of November, boxes were set up, each location collecting for their local food bank via the Trussell Trust, sending a list to clients of the items that were particularly needed in their local area.  Not just luxury Christmas items were requested, but also basic staples such as washing powder and long life milk.  The team at Prama House, Oxford, even had to swap the cardboard box for a shopping trolley borrowed from a local shop to house all the donations.
Thanks to the generosity of our staff and clients, this week several large donations were made to very grateful food bank warehouses, many of whom had alarmingly empty shelves and those that were well stocked had a long queue of people waiting to collect a food parcel.  All of us at Podium would like to thank our clients for their generous donations and hope that our efforts go a little way towards offering a little cheer to people in crisis this Christmas.  Here are some photos of our teams collecting and delivering our donations.