Our Bath flex office centre is, this week, celebrating 5 years since it opened in 2017.  With 55 offices over 4 floors and space to accommodate up to 30 people, Cambridge House is a stylish and contemporary space with lots of unique features.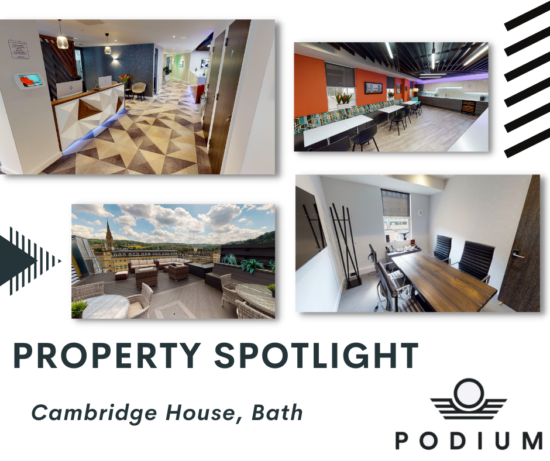 As well as serviced office standard inclusions of utilities, cleaning, furniture and reception services, Cambridge House has some fabulous features which make it a really attractive place to work; stunning roof terrace, showers with complimentary toiletries and towels, underground bike storage, and phone booths to name but a few.   The building also offers a Dock Club coworking lounge – a hub lounge with breakout area, coworking spaces and a kitchen offering tea and Nespresso coffee.  The Podium Bath team also spoil their clients with daily continental breakfast, complimentary wine and beer on Thursday and Friday afternoons and regular pizza Tuesdays and brunch Fridays.  Thankfully the neighbouring gym Anytime Fitness means any over indulgences can be worked off!
Centre Manager Scarlett Benton is really proud of her centre and its wow factor.  She says "the property is really smart with a boutique feel, yet at the same time has a lovely warmth.  The team really care about the building and that comes through in how well kept it is and we regularly see how much clients enjoy bringing visitors in and showing off their lovely office.  The cherry on the cake is the roof terrace – we all love it, team and clients both, especially with the recent beautiful weather.  It offers an amazing view of the unique skyline and I feel really lucky to live here."
Scarlett's favourite part of her job is building relationships with the clients: "We have a real mix of businesses here, from web designers and IT companies to energy brokers and lawyers.  One client, Dragon Capital Markets (Europe) Ltd, moved in on our opening day and has stayed ever since.  This means our networking events, which we run regularly, are full of interesting conversations and we love getting to know our clients' businesses.  Getting to know the clients is the highlight of my job and has been something really special.  They are really supportive and we genuinely feel as if our team is part of their teams, which creates such a wonderful atmosphere at work."
Watch this space on social media to see photos of the 5th birthday celebrations!  Scarlett, along with team members Asta and Carla will be inviting clients and visitors for fizz and cake to mark the occasion.
Podium offers serviced offices, virtual offices and meeting rooms for hire in this fantastic location in the Bath city centre.  Ideally located for public transport links, Podium's offices in Bath are just a 4 minute walk from Bath Spa Railway Station providing direct rail access to Bristol and London Paddington (1 hour and 30 minutes).
For more information please contact Scarlett Benson.