The Podium Dock Club offers contemporary, innovative working spaces with a focus on providing your business the creative space to thrive.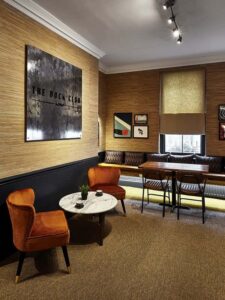 Our coworking lounges provides you with a base away from your home or office, with all the essentials to allow you to focus on running your business. You no longer need to search for a spare seat in a busy coffee shop to meet your clients or just to access a good internet connection.  From co-working spaces and hot desks, to informal meeting areas and lounges to bookable meeting rooms, we've got you covered!
Our unique membership gives you exclusive access to all of our Dock Club locations: Poland Street in Soho, Ealing Cross, Bath, Marylebone, Fitzrovia, Liverpool Street, Bloomsbury, Chiswick, Oxford East Point and Oxford Prama House, with a second location in Soho coming soon. All of our spaces include enhanced superfast Wi-Fi, private meeting rooms, creative event space, concierge and free coffee and other refreshments.
Our benefits are designed around you, helping you and your business perform at its best.
Full access membership includes*
Stylish co-working lounges
Enhanced superfast Wi-Fi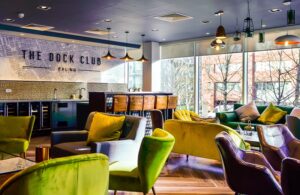 Unlimited tea and Nespresso coffee
Complimentary newspapers
Private Zen room*
Complimentary breakfast and lunchtime snacks*
Free photocopying and printing
Private meeting pods*
Complimentary beer and soft drinks (post 3pm Thurs & Fri)*
Onsite support team
* These benefits vary by location.
Unlimited Dock Club Access as part of The Podium Connect Membership
Dock Club Access is one of the fantastic benefits of Podium Connect Membership, which is available only to our resident and virtual office clients and gives you the freedom to work to your own schedule, and make the most of our portfolio and bundles products.
This clever, business focused membership unlocks access to a variety of different service providers and benefits, all available to you from the touch of a button, either as part of the membership or at preferential rates.
We can tailor memberships to individuals or corporate groups as well as our resident and virtual clients, so you can connect with us wherever you are in the world.
Read more about Podium Connect here.
Have we piqued your interest?
Podium offers high quality flex office space to rent in prime locations in the West End and City of London, Oxford, Chiswick, Ealing, Bath and Bournemouth.  To view Podium's locations click here.  Get in touch with our friendly team today to explore our full range of products and services.