Two New Dock Clubs Open in Central London
Over the summer months our team in central London have been hard at work creating two brand new Dock Club coworking lounges to add to the four existing central London locations in Soho (Poland Street), the City (Liverpool Street), Marylebone (Chandos Street) and Bloomsbury (Russell Square).
This period property benefits from a fabulous location, just off Soho Square and less than two minutes walk from the Elizabeth line at Tottenham Court Road.  Resident office clients and Dock Club members can enjoy this spacious coworking lounge right in the beating heart of Soho.  A sanctuary in an area that is buzzing with bars and restaurants, The Dock Club at 7 Carlisle Street has plenty of hot desks, a break out area and a kitchen nook with premium tea and coffee and complimentary soft drinks.  There's also a meeting snug for private meetings or making a phone call in peace.  There's no charge, but you can reserve it via the Podium Member Portal.
The decor is a classic heritage style; dark green and pale gold, with some statement pieces of artwork.
Within the space is a private office which is available to rent for immediate occupation.  A team office for up to 12 people, with the fabulous new Dock Club right outside the door makes this a really appealing space and we don't expect it to be vacant for long.  Contact Lee or Will for more details on this office or to arrange a viewing.

This property boasts a stunning Georgian facade and overlooks the beautiful Bedford Square gardens, which is often used as a location for film and TV.  Close to Tottenham Court Road and Goodge Street, the tastefully decorated Dock Club may be small in size, but provides the ideal place to escape your office, eat some lunch or grab an espresso.  There's even a bookable meeting room within the space, just contact the team to reserve it.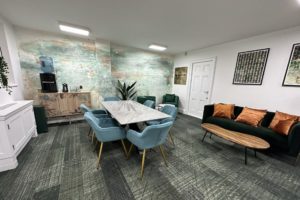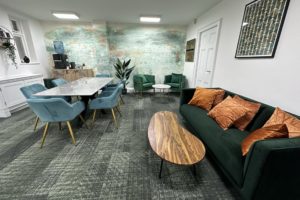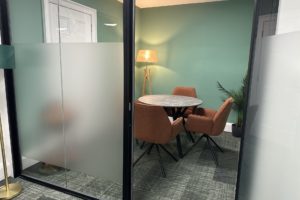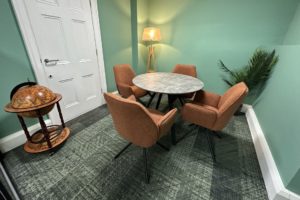 Podium's Dock Clubs are available to Podium Connect members as well as Dock Club members.  A Dock Club membership is just £89 per person per month, so if you would like a drop in office away from your home office, contact us to arrange a free day pass.  If you are a Dock Club or Podium Connect member and would like to enjoy these spaces please contact request@podiumspace.co.uk so we can expect you and arrange access.