Think serviced offices are bland and boring and don't reflect you or your company?  It's time to rethink that misconception.  Podium has seven properties across central London where you can put your stamp on your space with our office design service.
With workspaces for up to 29 people, our fabulous central London properties are brimming with period features such as fireplaces, cornicing and original floors.  They may currently be painted box fresh white, but the door is definitely open for companies who want to inject their personality into their office space.
Chandos Street client, Fresh Britain, did exactly that.  It was essential to the Brand Design and Strategy Consultancy company that their space had impact and was consistent with their own branding and company ethos.  This meant out with the conventional office set up of desks and chairs and in with leather chesterfield sofas, vintage furniture and a bold colour scheme.  London Regional Manager Mark Dalton and his team managed the process from concept to completion, project managing the transformation on incredibly tight timescales.  In fact, this amazing glow up was executed over a weekend to be ready for an important client meeting on the Monday morning, with decorators working through the night to meet the deadline.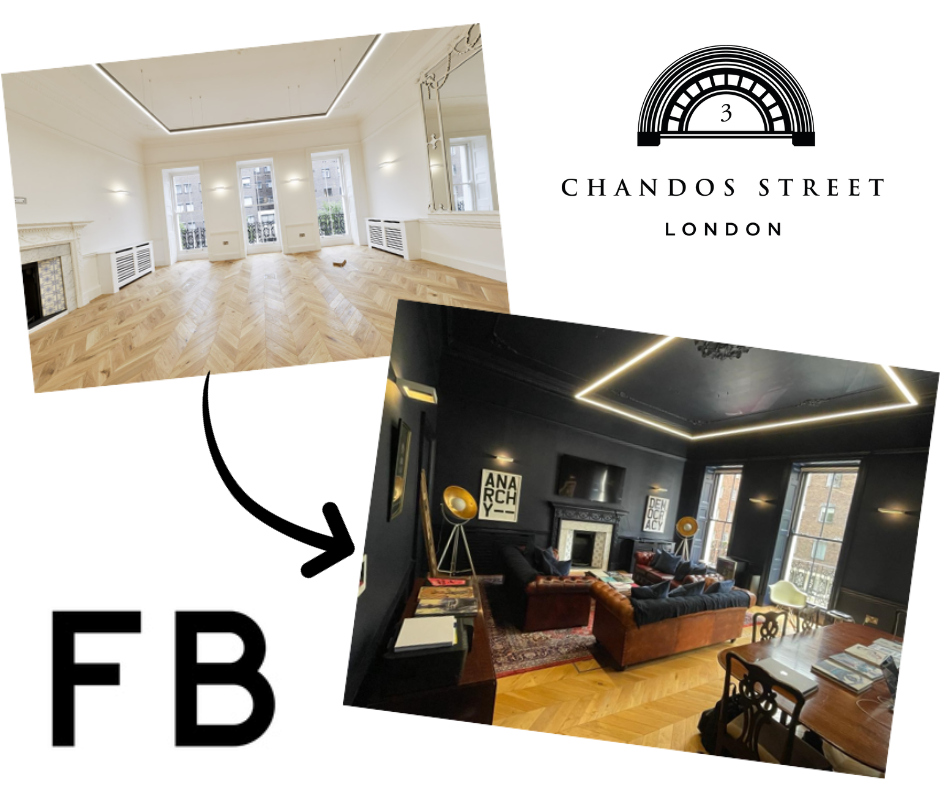 Fresh Britain's Andy Lipscombe was thrilled with the end result and felt well supported by the Podium team:
"The arrivals and settling in process was really positive, mainly as its so personal.  The flexibility to allow us to do our own thing, and create our own bespoke space has been fantastic. The support of the team feels very comprehensive and is really reassuring as we know we are quite unique and we have asked a lot of you guys, but the service has been great!"
"So it's a big thank you from the FB team"
Offices like this one are available across our central London portfolio, in Soho, Bloomsbury, Marylebone and Fitzrovia.  For more information on office availability or talk to someone about creating a bespoke space, contact Mark Dalton, Regional Manager for Podium's managed offices in central London.