Celebrating Broker Partnerships
Once again we are using the bimonthly Podium award to celebrate our partnership with a broker.  The award is based on Podium's values, to recognise an individual broker who partners with us to work together towards successful outcomes.  Communication, professionalism and honesty are key.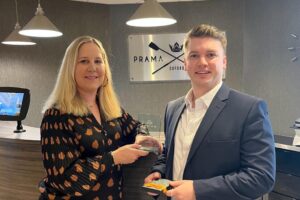 As always, we are open to receiving nominations from anyone within the business.  This time, the worthy winner was Jonathan Aitken from CBRE, who was nominated by Oxford Area Manager, Natasha Turner following a successful deal at Prama House in Oxford.  Natasha was hugely complimentary about the professional and attentive way in which Jonathan handled the process from initial enquiry right through to a successful conclusion.  "Jonathan accompanied the tour around the property, which can be unusual in itself, then gave excellent and detailed feedback so I could adapt my proposal to be as relevant as possible", says Natasha.  "In addition, he was included in all the negotiations, right through to signing of contracts and transfer of funds, which gave the client great continuity and assurance that their needs were being well looked after.  I look forward to working with Jonathan again."
Jonathan popped into Prama House last week to meet up with Natasha and collect his award. Congratulations and thank you to Jonathan.
The next Podium award will be given to a team member and we are really looking forward to seeing the nominations and recognising the efforts of one of our team.
For more information about the Podium Awards, contact us.