Meet Podium Award Winner Ben Burgess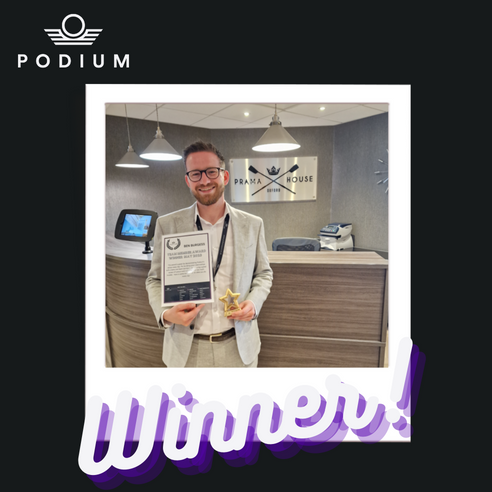 We recently had the near impossible task of selecting just one Podium team member to receive a Podium award.  This award goes to a team member, client or broker who embodies Podium's values of People, Pride & Partnerships.
We were delighted to give the latest award to Ben Burgess, Customer Service Manager at Prama House, Oxford.  Ben joined Podium as a Customer Service Assistant in 2014 and quickly developed great relationships with team members and clients alike, with his upbeat personality and willingness to help.  He was promoted to Customer Service Manager in February 2022 and is committed to the smooth running of the centre, and to ensuring his clients are 100% happy.  His dedication to being the best he can,  keeping a great sense of humour and ensuring the highest levels of customer service are the qualities that clinched this award.
Natasha Turner, Oxford Area Manager says Ben is an absolute pleasure to have on her team. "Ben is the most willing, energising and enthusiastic person I've ever had the pleasure of working with.  No request is too much for Ben and he keeps the customer at the forefront of everything he does, and greets every task with a smile.  I'm so pleased his efforts have been recognised with this award."
Ben thrives on being an attentive and efficient, yet fun manager.  "Keeping things running smoothly and the clients happy is my priority", says Ben. "I love working at Prama House with such a great team!"
Congratulations to Ben on this accolade! We are sure Ben's clients will also be delighted to hear his efforts have been officially recognised.
Ben is based at Prama House, in the popular Oxford suburb of Summertown.   For all Podiums flex office, meeting room and virtual office locations click here.