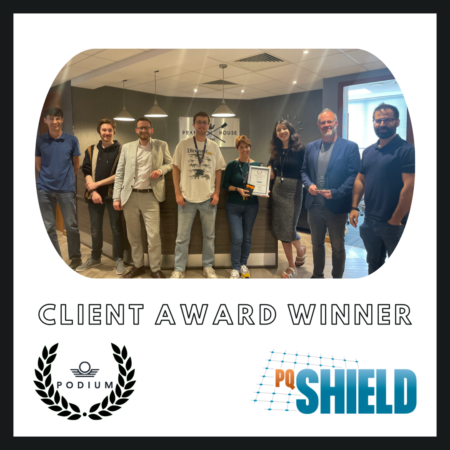 PQ Shield, based in Prama House, Oxford are the latest recipient of a Podium Award.  This award is given every two months to a broker, client or team member who consistently demonstrate Podium's values of People, Pride & Partnerships.
Podium clients since 2019, PQ Shield is a world renowned tech security company, even having a laboratory at Prama House to make their chips with quantum-safe cryptography.
The PQ Shield team are supportive not only of Podium but also the local businesses in Summertown, choosing local as suppliers wherever possible. They can often be found in the Prama House Dock Club having team lunches.
The Prama House team feel like PQ Shield embrace them as part of their own team, and really appreciate the little gifts of chocolates, biscuits and even pizza!  Customer Service Manager Ben Burgess comments "it's always a joy to see how the PQ Shield team interact with the Podium team and other clients in the building, always so polite and respectful. I'm so pleased they have won this award so we can show that these qualities do not go unnoticed.  They are the nicest people and a joy to work with."
Elvira Carasol, Executive Assistant to CEO/People Operations was delighted to have received the award and it seems that the appreciation goes both ways!
"PQShield is incredibly delighted to have been nominated as Client Award Winner by Podium, here at our Prama House, Oxford location.  The team here has been extremely professional and supportive of our office activity here at Prama House. We could not have wished for a more collaborative and accommodating space & team. Thank you for everything that you do!"
For more information about PQ Shield, get in touch with their Oxford team.
PQ Shield are based at Prama House, Podium's flex offices in the popular Oxford suburb of Summertown.   For all Podium's flex office, meeting room and virtual office locations click here.