Every two months Podium makes an award to a team member, client or broker who consistently demonstrates Podium's values: People, Pride & Partnerships.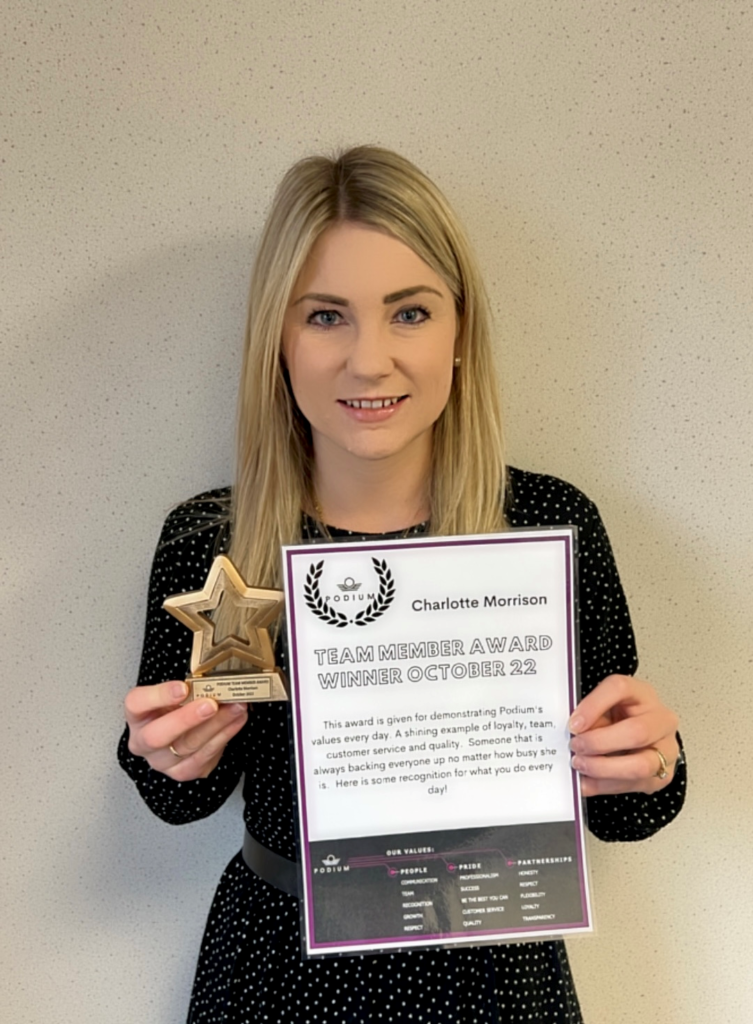 This award was the second time we had recognised the contribution of a Podium team member, and it's always the most difficult award to decide upon, with so many really worthy candidates to choose from. This time 7 different team members were nominated, with 2 receiving multiple nominations, making the task of choosing just one winner even more tricky.
October's winner, Charlotte Morrison, is someone that truly keeps the business wheels turning at Podium.
Charlotte is based in Oxford and graduated college with a National Diploma in Business before going on to run a very busy coffee shop in an Oxford serviced station.  She loved the job, but not the 5am starts! In 2010 an opportunity arose to work in customer service at Podium, working alongside Tash and her team at Prama House, Oxford.  The regular office hours were very appealing so she jumped at the chance.  After 3 months, she took a role assisting the Operations Director in the running of the overall business, a role that Charlotte really embraced.  So much so, she was promoted to Operations Manager in 2016 when the Head Office in Oxford was formed.  In this role, she oversees the operations of the business, the billing team, customer care team and is company facilities manager.
A very deserved winner, Charlotte demonstrates Podium's values each and every day.  Podium Operations Director, Candy Woodington says, "Charlotte is, without question, a deserving recipient of this award.  Not only does she excel at all aspects of her important role as Operations Manager she remains constantly available to support all other team members when they are in need of help.  She does this willingly, with a smile, and embodies the values of the business.  It is no surprise that her nomination was hugely supported across the business and we are delighted that she was the worthy winner."
Charlotte was over the moon, although shocked to receive the award and was so grateful to be nominated, saying "my favourite part of the job is the Podium team and the support I have around me. We all work together to make Podium the best it can be. I love being able to help and support others to enable everyone to grow and develop within their role."
Well done Charlotte, and thank you!
Charlotte Morrison is based at East Point, Oxford, travelling to other locations in London & Bath on a regular basis.   For all Podiums flex office, meeting room and virtual office locations click here.